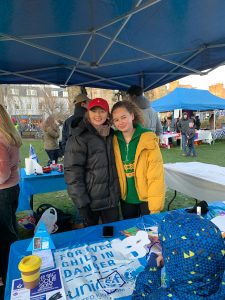 Celebrations took place throughout St Andrews on the weekend of the 30 November 2019 as the town marked the day of its namesake.
The 'Big Hoolie', organised by BID St Andrews in association with the Student Association began with a market at Madras College, with stalls, music and more. Several University Societies hosted activity tables, including Christmas card decoration and Christmas biscuit decoration.
In the evening, thousands of people put on their dancing shoes to take part in the huge outdoor ceilidh. Following that, a torch-lit procession led a crowd down to West Sands, where fireworks lit up the famous beach.