35-Year Public Relations Professional Marc Whitt Authors Book Named to PRCA's "Recommended Reading List"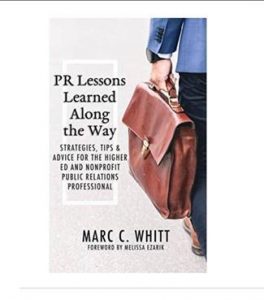 Lexington, KY (May 27, 2020) – PR Lessons Learned Along the Way: Strategies, Tips & Advice for the Higher Ed and Nonprofit Public Relations Professional, a book that has already received rave editorial reviews by higher education and nonprofit officials from across the United States and United Kingdom, is set for release June 1, announced Adam Turner, president of Cherrymoon Media, a publisher based in Lexington, Ky. The book will be available in print and Kindle formats via Amazon Books.
The 272- page book, named by the Public Relations and Communications Association (PRCA) to its "Recommended Reading List," is by first-time author, Marc C. Whitt, a 35-year veteran of higher education and nonprofit public relations. Whitt currently serves as director of media and strategic relations at the University of Kentucky Office of Public Relations and Strategic Communications and is a part-time instructor at UK's Department of Integrated Strategic Communication.  The foreword is written by nationally-respected higher education journalist, Melissa Ezarik, senior managing editor of University Business magazine.
Whitt, a resident of Richmond, Ky. and native of Paintsville, has written a book filled with strategies, tips and advice addressing pertinent topics for those in higher education or nonprofit public relations. More than 20 chapters cover topics such as program leadership and management, crisis communications, social media, earned media, storytelling, philanthropy and donor communications, town and gown relations, branding, event planning and much more.
Interspersed throughout the book are many of the career lessons Whitt said he has personally learned and experienced during his career. He has taken these experiences and insights and shares them with the reader in an open, honest, inspiring and insightful way, said Turner.
"PR Lessons Learned Along the Way is written in a conversational tone," Turner added. "That was intentional on Marc's part and true to his personality and character.  He wants the young, mid-career or senior professional to feel as if they are sitting down with him over a cup of coffee or glass of sweet tea talking shop as they learn from one another. Not only do I believe he has successfully captured this in the book, but so do many in the public relations profession who have reviewed it."
Here is a sampling of what a few reviewers had to say:
"I have been looking forward to the day Marc Whitt would share his wisdom in a book. Marc has always been a leader in our field, no matter his institutional or professional association role. His casual writing style makes this book a real treat to read, and I suggest you keep it on your desk for quick reference." – Larry D. Lauer, Vice Chancellor Emeritus, Texas Christian University, and Author of Best-selling Advancing Higher Education in Uncertain Times
"Marc Whitt's book, PR Lessons Learned Along The Way, is truly remarkable -and I say that having reviewed many PR books in my time. The advice 'Maintain a good sense of humor. It will always see you through life's ups and downs' has surely never been more apt than today, with so much bad news around us. And yet the optimism that runs through this book is precisely what we need right now, and is also precisely true. Our profession's embrace of professionalism; of constant improvement; and of strategy make it -as Whitt argues- indispensable. PR is a conversation, not a lecture. And reading this book feels exactly that -one expert having a conversation with his readers, and imparting the knowledge of decades along the way." – Francis Ingham, MPRCA, Public Relations and Communications Association, Director General, London, England
"PR Lessons Learned Along The Way is a superb resource offering context and guiderails to manage nonprofit and higher education brands in a strategic and sustainable way. Marc reminds us of the inherent service orientation of our calling, the imperative of values such as leadership, integrity and urgency, the value of playing the long game, and the devil that resides in the detail of public relations work. Whether you are a communications rookie, a mid-career professional or a seasoned expert, you will come away from PR Lessons Along The Way feeling empowered and maybe even a little more in love with the craft than you were yesterday." – Morgan Roth, Senior Vice President, Communication & Marketing, The ALS Association, Washington, DC
"Marc Whitt's book is an indispensable guide for all of us currently in public relations and advancement, as well as for anyone seeking to enter the field. Marc applies his many years of experience to each topic he addresses, but his tone is never condescending or 'know-it-all' – instead, he offers pragmatic advice and solutions that will help everyone from the PR newbie to the seasoned veteran."– Jeffrey T. Spoeri, Associate Vice President for University Advancement, Lamar University, Beaumont, Texas
"Have you ever found yourself nodding and saying, 'Yes, yes!' while reading a book? When a writer unveils morsels of wisdom that ring true, that's what happens. In PR Lessons Learned Along the Way, Marc Whitt becomes our mentor, an experienced friend willing to bare his heart and soul. Marc's observations are born out of being in the trenches, making mistakes and achieving monumental goals. As I read his words, it is as though we are sharing coffee and war stories, congratulating the other on a success or putting balm on a wound. Buy this book. Read it through. And when you need a pep talk or a reminder of why PR is the best profession in the world, pick it back up. You'll put it down smiling again." – Nancy Wiser, President, Wiser Strategies, APR, PRSA Fellow, Lexington, Kentucky
"If Dale Carnegie ever wanted to write a sequel to How to Win Friends and Influence People, PR Lessons Learned Along the Way would be it!" – Tom Hayes, Dean, Williams College of Business, Xavier University, Cincinnati, Ohio, and Author, Marketing Colleges and Universities, A Services Perspective (CASE Alice Beeman Award Winner)
 About the Author
Marc Whitt is Director of Media & Strategic Relations at the University of Kentucky's Office of Public Relations and Strategic Communications. He also serves as a part-time instructor in UK's Department of Integrated Strategic Communication and is a former PR and marketing columnist for the national trade magazine, University Business.  During his nearly 35 years in higher education, Marc's work has achieved measurable results garnering over 40 honors including back-to-back CASE Silver Medal Awards for Total Institutional Relations Program. In 2015, he received the James C. Bowling Excellence in Public Relations Award. Presented by the UK Journalism Alumni Association and UK Department of Integrated Strategic Communication, the award is given to the "outstanding public relations practitioner with ties to Kentucky." That same year, he received the Distinguished Alumnus Award from the Eastern Kentucky University Department of Communication. In 2003, he was named an Honorary Alumnus of Campbellsville University.
Recently Onalytica, a firm that identifies social influencers, named him among the "Top 100 Public Relations Influencers on Twitter;" he was ranked 21st. Additionally, CASE Kentucky presented him with its Beth K. Fields Service Award for Leadership in Advancement.
In previous years, Marc has served on the Association of American Colleges & Universities Advisory Council on Communications and Public Affairs (two of his eight years as national chair), the CASE District III (Southeast US) Board of Directors and the International Town & Gown Association Board of Directors. He has consulted organisations such as the Christian Appalachian Project, The National Association of Music Parents, Witnessing History Education Foundation, among others.
Marc holds a Master of Arts Degree (1985) and Bachelor of Arts Degree (1982) from Eastern Kentucky University.
Marc and his wife, Jennifer, reside in Richmond, Kentucky, and are the parents of three children: Emily Fields (Mark); Elizabeth Muncie (Christian); and Jacob; and the grandparents of Annaleigh and Aubrey Fields.
 About Cherrymoon Media
Cherrymoon Media is a multimedia company based in central Kentucky, specializing in book publishing, music management, and web development services.