The UKTGA hear from Lesley Caldwell, Community Engagement and Social Responsibility Officer at the University of St Andrews (and UKTGA Scotland Regional Representative) about this fantastic achievement:
"We are delighted that for the first time in thirty years, the University of St Andrews has been ranked number one in the United Kingdom in The Times and Sunday Time Good University Guide 2021. No British ranking has ever placed any other university other than Oxbridge at number one. It is an exceptionally special moment for our staff, students, alumni, and the local community that the University has been recognised in this way following the difficult 18 months our community has faced.
The University has regularly ranked highly across league tables for student satisfaction, and within my role as Community Engagement and Social Responsibility Officer, I must attribute this in part to the welcoming and ultimately supportive local community within which our University sits. Over the years the town and gown relationship has thrived, and our students' have increasingly become an integral part of the makeup of the town. The Can Do attitude of our students, with the support of our staff, has allowed life to continue in a safe and supportive environment and has ensured that as a University, we have been able to respond to the needs of the local community during the pandemic.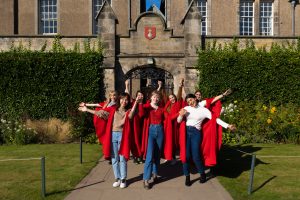 Our students are passionate about St Andrews, their learning and academic journey, but also life beyond the academic; from traditions through to sports, to volunteering, and fundraising. Their enjoyment in regards to being part of this wider community is one of the most important factors that make attending the University of St Andrews so special.
On Friday 17 September 2021, the town bells rang out at noon to celebrate this achievement. This success means a lot to us as a University but also as a town".
The UKTGA would like to congratulate St Andrews on this amazing achievement!